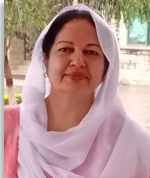 RESEARCH/TEACHING EXPERIENCE; 28 YEARS
(completed five years as Professor in 2016)

Research experience is related to the fields of Microbiology, Biochemistry, Entomology, Enzymology, Immunology and Molecular Biology/Biotechnology.

In 1988, after M.Sc (Zoology, 4th position: specialization in Biochemistry) from PU, joined CEMB, worked on the several projects & achieved following goals;

Several restriction endonucleases were characterized by manual sequencing. Preparation (in bulk) & maintenance of Substrate DNAs, Restriction endonucleases, Taq polymerase, antibodies to use in CEMB research work. Research work for more than a decade on Bt-cotton, Rice etc, was done & Invented Biotoxicity assays for 8 cotton, rice, crop Pests, Found novel Bacillus thuringiensis (Bt) strains against pests after screening of thousands locally isolated Bt for proteins with pesticidal properties. Biotoxicity assays of each transgenic crop (rice, cotton, chickpea) plants of CEMB, alongwith the management of insectory alongwith sucking pests rearing establishment. Discovered a novel Bt-toxins receptor in polyphagous pest H.armigera (Gen Bank (NCBI) submission:2) Developed the economically suitable Immunoassays for GMOs detection. Developed the Dipsticks for Bt-crops detection, (First time in Asia) Patent notified in gazette by IPO. Microbial analysis of Food & Water samples, Identified pathogenic serotype E.coli O157:H7, bio-pesticide formulation for T. casteneum (2 Patents notified in gazette by IPO). Since 2000, Fulfill the teaching responsibilities of M.phil./Ph.D, BS-IV Classes by teaching 8 courses in CEMB & LCWU, trained several students and faculties. Establishment of Entomology Research Lab, Immunology Research Lab in CEMB, Started Molecular biology/Microbiology Teaching, developed Molecular biology/Microbiology Lab & guided the faculty, students regarding impact factor publications in LCWU & done administrative work as member of 10 committees. Nominated for Civil Award, Best University Teacher award, President technology award, PCST Productive Scientist shortlisted for the post of VC. More than 80 research publications (55 as 1st author, 44 publications in last five years) having 94 impact factor. Won 1st Innovation award 2012, Gold Medalist, Accomplishment certificate awarded by education minister, at CEMB-5th International Symposium Workshop, 1997. Post-doc awarded & completed. Evaluated 78 theses as external examiner for Ph.D, M.Phil, BS & M.Sc theses of 5 HEC recognized Universities. Invited Reviewer of 10 International Research Journals & Membership of more than 10 national academic bodies (Syndicate, Selection Board, BOS) of HEC recognized Universities, 10 International academic bodies/Societies, Standing Committee SME of LCCI. Supervised research students at Ph.D, MS, M.Sc & BS level as HEC approved Ph.D Supervisor & attended several International & national Symposia/ Workshop/Conferences.